BUILD A HEALTHY LOVING RELATIONSHIP
"Behind every happy couple lies two people who have fought hard to overcome all obstacles and interference to be that way. Why? Because it's what they wanted."
– Kim George
WAKE UP CALL?
Did you wake up one morning and find a stranger sitting across the breakfast table? You use to love to just talk about your lives. But now it seems as if almost anything you talk about can devolve into that oh-so-familiar fight and power struggle. You can barely remember the last time you cuddled, and sex? Yeah right.
WHERE DID THE LOVE GO?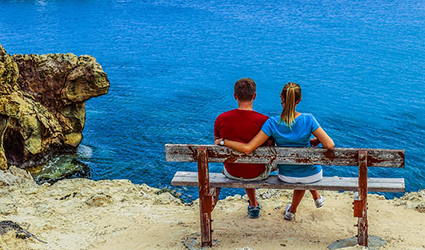 Those things that you loved so much about each other when you first met now really get on your nerves.
You loved how they were spontaneous and carefree. But now you see those things as careless and irresponsible.
They loved that you researched things thoroughly before you came to a decision. They now see that as controlling and inflexible.
Add to that the stress of parenting, working long hours, having aging parents, dealing with your own health issues, and there doesn't even seem to be time to figure out what went wrong.
Down deep you know you still love each other. But you feel increasingly lonely and wonder if you should just give up even trying to have a satisfying intimate partnership.
THERE IS HOPE!
This is exactly the right time to give me a call.
I can help you sort things out, reconnect again and rebuild your intimate, loving relationship.
FIND YOUR WAY BACK TO A LOVING RELATIONSHIP!
You can restore your connection and communication.
I can help you move from being on automatic pilot to a place where you both feel seen and heard.
Together we will look at the unique things each of you bring to the relationship and the particular places where things break down
I will facilitate a safe place where you can talk through those painful places where you have misunderstood and hurt each other. I will help you become aware of the same patterns that you have played over and over again and move beyond defensiveness to open, honest and safe communication.
You will learn new ways to communicate.
And know when it is time to take a breather from a conversation if it is getting too hot.
And reconnect to resolve the issue when you have cooled down.
Conflict can then be used as a way to deepen intimacy and grow.
You will remember what it is like to have fun together.
Don't wait! Call me for a free 20-minute phone consultation 510-775-1496.